Career Center Staff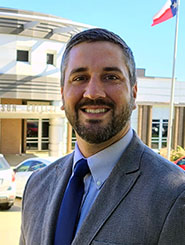 Corey Leird
Corey Leird is our new Career and Pathway Coach. He is from Pottsboro, Texas and was a former student at Grayson College. He also attended the University of North Texas and has a master's degree in Social Work from the University of Texas at Arlington. Corey understands firsthand the struggle some students face in selecting a college major and career path.
"I started my education fresh out of high school at Grayson College. I knew I wanted to pursue a degree but was uncertain exactly what degree or even what career! After completing coursework at Grayson College, I transferred to UNT and pursued Engineering but quickly learned I was not an engineer! Through research of my own, I stumbled across UNT's Logistics and Supply Chain Management degree and thought this was the major for me. After completing my degree at UNT and entering the workforce, I realized I might not want to really endeavor in logistics.
After several years of working in various fields, I recall finding myself continuing to think about making a difference in the lives of others and returned to school to receive my LMSW. My story reflects upon me wishing I had someone at the beginning of my college career to help provide me with direction and resources in matching my education to a fitting career.
As the new Career and Pathway Coach at Grayson College. I now hope to connect with students providing them with this guidance. Commit with them in achieving their education; and help them complete their pathway toward a rewarding career."