Technical Specifications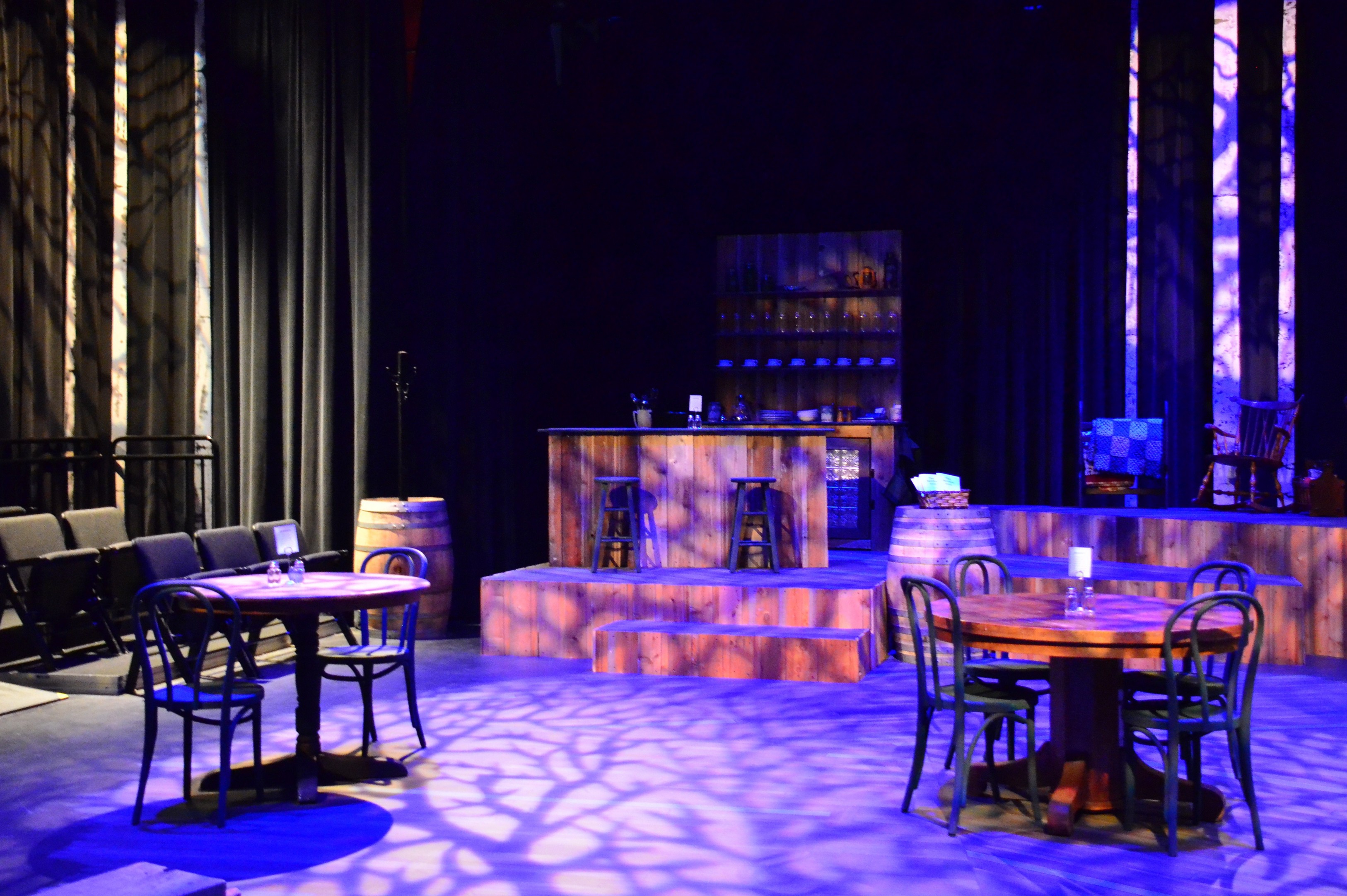 6101 Grayson Drive (Hwy 691)• Denison, TX 75020
Main: 903-465-6030 • Fax: 903-463-5284 
Grayson College is a two year college located approximately 60 miles north of Dallas, Texas with an enrollment of 5000 students.  The Arts and Communication Center (AC)  is the tallest building on campus.  Enter the campus at the Main Entrance and the AC glass-front lobby will be on your left on the circle drive.
There are two performance spaces in the Arts and Communication Center (AC)  - Both spaces share a common lobby.
Cruce Stark Auditorium is a proscenium theatre which seats 903 audience members. It contains a fly loft and no orchestra pit.  There is ramped access to the stage from both the house right and house left aisles.


The Black Box Theatre is a flexible performance space which can seat up to 120 people using a Staging Concepts Inc. SC90 platform system.   It is approximately 50' X 50'. It contains a tension lighting grid at 17'-0" above deck level.  Full single track masking surrounds the room.  26) legs.  8'x16'.  each.  21 oz. black velour.  Pleated.  Walk along.

---
General Information
Reservations should be made with Alison Trapp 903-463-8609 trappa@grayson.edu
Technical Service arrangements should be made with the Technical Director Office: 903-463-8647 
Accessibility Information:
Cruce Stark Auditorium
Six wheelchair locations are available: Four are located on the back row, two are mid-house aisle.
Additional wheelchair seating can be accommodated by removing additional seats from Rows A and B in the HR section.  Wheelchair accessible restrooms are in the Main Lobby and adjacent to each dressing room.
Hearing impaired system available upon request.
Black Box
The Black Box is fully accessible.  The flexible seating system can be configured to accommodate wheelchair seating in a number of different ways.  
Parking: 
Event parking is located by the Main Entrance in the lots adjacent to the theatre.  Handicap Drop Off and spaces are located in the circle drive in front (east) of the lobby.  Truck parking is located at the AC loading dock on the west side of the building.
---
Travel Directions: 
From Dallas using Hwy 75:  Travel north on Hwy 75. Denison is located 35 miles north of McKinney, TX.  Take exit # 65, Hwy 691.  Turn left (west) on Hwy 691 and travel 2 miles.  Grayson College will be on the right. For lobby and parking, enter at Main Entrance (marked as such on the electronic sign)  AC is on your left (the tallest building on campus).  To reach loading dock, take the West Entrance, which will be 100 yards past the "Main" entrance.
From Gainesville using Hwy 82:  Leaving Gainesville on Hwy 82 eastbound, travel 30 miles.  Take exit number 640/Hwy 1417 towards Pottsboro. Turn left under Hwy 82 onto Hwy 1417 and travel 2.7 miles.  Turn right at the intersection of Hwy 1417  and Hwy 691.   (There is a traffic light at this intersection)  Grayson College is on your left in 1 mile.  For lobby and parking, enter at Main Entrance .(marked as such on the electronic sign) AC is on your left (the tallest building on campus).  To reach loading dock, take the west entrance which will be the first entrance with an electronic sign.


Time Zone: Central. Texas conforms to Daylight Savings Time
---
Management
Green Room: Appx. 15'x21' located adjacent to dressing rooms and down the hall from stage.  Computer and Internet access available.   Seating for 12.  Refrigerator and dishwasher.


Management:  WiFi in entire building.  Fax machine located in Administrative Services building next door.   Copier located in Liberal Arts Building.  


Stage Manager's Console: FOH booth.   Audio and Video monitors.  4 channel production communication system.    (Production Intercom)


Rehearsal Rooms: None. 


Crews: As required.  $25 per hour per technician.


Accessibility: Wheelchair lift to booths.   ADA compliant restrooms adjacent to all dressing rooms, in lobby, and 2nd level between control booths.


Policies: House opens 1/2 hr. prior to curtain, Normal curtain is 7:30 pm.  Alcohol is not permitted on campus.   Smoking in parking lots only.
Load-In Area: There is no elevated dock.
Dimensions: 
Roll-up door from outside to Scene Shop 12'x12'
Roll-up from Scene Shop to USR Cruce Stark Stage 12'x12'
Roll-up Cruce Stark Stage to Hallway 7'-6"wx7'-10"h
Roll-up from Hallway to Black Box 7'-3"x9'-0"h
---
CARPENTRY:

Cruce Stark Auditorium:
Seating: 903 -  There is no orchestra pit.  8 wheel chair accessible


Stage Dimensions:
Proscenium: 39'-5"w x 19'-7"h.   23'-6"stage depth from plasterline to US I-beams in crossover.  25'-6" from plasterline to US wall.  20'-0" curved apron depth from plasterline at centerline.


Wing space: 20'-0" stage right, 17'-6" to rail stage left.  


Grid height: No grid.   Deck to loft blocks 57"-0".


Orchestra pit: none
Stage height: relative to auditorium floor 3'-4"


Stage Floor: Sprung Wood covered with 1/4" tempered masonite. Black.   Rosco Adagio Tour dance floor available.  6 rolls) 40'-0" long.  No traps.  
---
Support Areas:
Crossover: US of breeze curtain.  1'-6".  It's tight due to the vertical i-beams.


Access to stage: 2) ramps from front of house far L and R aisles.   SR from dressing rooms, green room, etc.. USR from Scene Shop.


Scene Shop: West side of building, US of stage.  Roll-up doors to exterior and stage.  Dock is ground level.  An electric forklift is available for load-in/outs.


FOH Booths:  Each theatre has a control booth located on the 2nd level.  Accessible using wheelchair lift.  


Notes: There is no elevated dock.  There is an electric fork lift to aid in un/loading.  There is also a Genie AWP-25 that is available.  

---