Spring 2018 Graduation Info
---
Grayson College celebrates student success at Spring Commencement Friends and family watched as 460 Grayson College students received diplomas and certificates during two ceremonies
Friday
.
"Grayson College is a premier learning college that transforms individual, builds communities and inspires excellence," Grayson College President Jeremy McMillen said. "We want our students to complete what they start. This is reflected in our goal to have students connect, commit and complete. More specifically, we have a goal to dramatically increase the number of college
graduates by 2020. This goal is important because by 202 65 percent of all jobs within our region will require a college credential."
McMillen introduced the speaker for the event and 2018 Faculty Member of the Year, Carla Fanning. She is a Professor of Psychology, Behavioral Sciences Program Lead and Dual Credit Faculty Liaison at Grayson College. Fanning earned her Master's of Science degree in Psychology from Illinois State University and Bachelor's of Science in Psychology from Missouri State University. Her professional background is in the field of child and adolescent psychopathology, working with children and adolescents in inpatient, outpatient, and residential services settings.
In her speech, Fanning imparted advice on the best ways to cope with difficult situations and how to maintain a positive attitude using what she termed "life hacks."
"Life hacks are tricks, techniques, strategies that make your life easier, more successful, less stressful and more fun," Fanning said.
Fanning outlined a series of techniques including – power posing, smiling, laughing, venting procedures and listening to music.
Of the 415 students receiving degrees
Friday
, one student received seven credentials, three received four credentials, 14 received three credentials, 31 received two credentials and 411 received one credential for a total of 353 associate degrees awarded and 181 certificates awarded.
The college's graduates for spring were an average 27 years old, with the youngest being 15 and the oldest being 64. The graduates took a cumulative 10,468 courses. Workforce Education students made up 45 percent of the graduating students, with Health Science making up 20 percent and Academic Studies comprising the other 34 percent.
In addition to the two commencement ceremonies held
Friday
, the college celebrated students in a variety of programs through several other awards ceremonies.
On Thursday
, the college held an Adult Education Literacy and Center For Workplace Learning Recognition Ceremony, as well as a Radiology Pinning Ceremony.
Thursday
also included a Medical Lab Technician Lab Coat Ceremony on the college's South Campus.
Friday
evening, Associate Degree Nurses were honored at a Pinning Ceremony. The celebrations were concluded 
Saturday
with a Dental Assisting Pinning Ceremony.
"This is one of my favorite days of the year," McMillen said. "We are shortening the time for degrees to keep students on their pathway and to get them to their transfer institution or career quicker. I am fortunate that we get to celebrate student completion multiple times a year."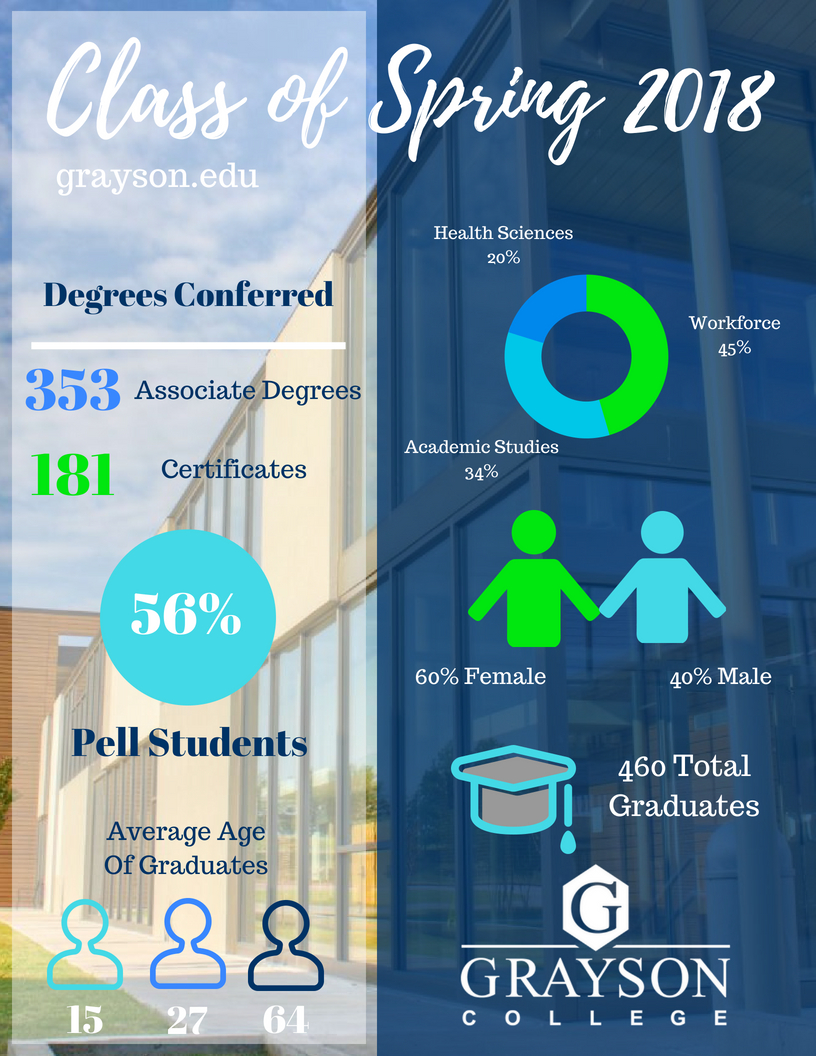 ---