Fitness Center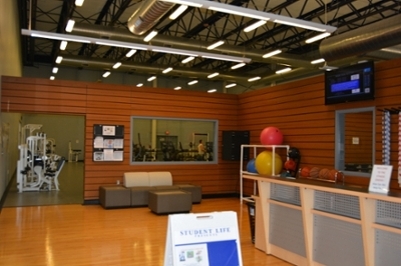 Main Campus Fitness Center
Workout room with free weights and circuit training equipment. Elliptical machines, treadmills and bikes are available for use.
Hours of Operation
Term
Main Campus Hours

South Campus Hours

Fall (August 1 - December 8)
Monday - Friday
6 am - 6 pm
Monday - Friday
8 am - 5 pm
Spring (January - May)
Monday - Friday
6 am - 6 pm
Monday - Friday
8 am - 5 pm
Closed Saturday/Sunday
Closed Saturday/Sunday
Main Campus Fitness Center Amenities
Aerobic exercise room.
Gymnasium.
Fitness Center Office.
Dressings rooms with showers.
Reserved lockers for faculty/staff.
Day use lockers for students, faculty and staff.
Basketballs, volleyballs and other sports related equipment must be provided by the user.
A complimentary towel service will be provided.
Day use lockers are available for students and employees. Ask the Fitness Center attendant on duty for details.
A limited number of reserved lockers are available for faculty and staff. Contact Mike McBrayer, Athletic Director, for details.
Dressing rooms, showers and restrooms are available.
How to Sign into the Fitness Center
Step 1 - Enter your first/last name using the echeck-in system.
Step 2 - On screen 2, enter your student or employee id number.
*GED students enter GED
*faculty enter faculty
*staff enter staff
Step 3 - On screen 3, select an item you wish to checkout. Please return the item when you finish.
Step 4 - Present your college ID card to the staff on duty. Remember to pickup your ID card when you leave!
One student guest per ID card is allowed.
Employees are allowed to bring immediate family only.
Children/youth under the age of 13 are not permitted in the facility.
South Campus Fitness Center
A fitness center is also located on the South Campus for student, faculty and staff use during normal operating hours from 8AM-5PM. It is equipped with ellipticals, treadmills, stationary bikes, SMITH machine, targeted weight machines, incline benches, and free weights. Wipe tubs are available for individuals to wipe down the equipment between each use. Mirrored walls and security cameras secure the room during use, as no staff is onsite. Those wishing to utilize the facility must check in at the front office with an ID and checkout when finished.