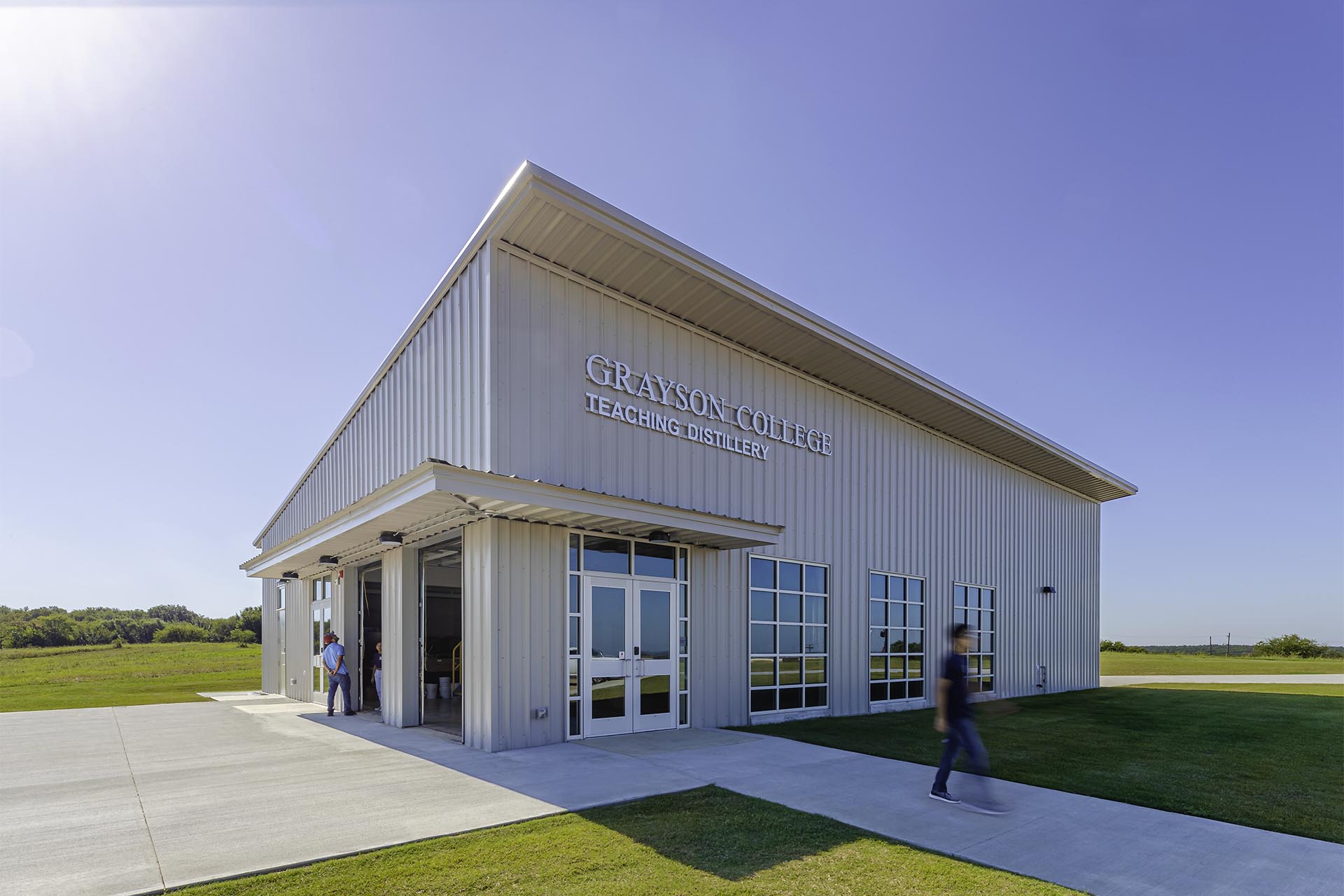 Earn skills that will prepare you to enter the fields of Viticulture and Enology / Distillation
Apply Now
Ultimate Texas-Sized 5-Day Distilling Workshop
Date: March 18 through 22, 2024
Day One
Mash in Whiskey/Distill Brandy
Day Two
Ferment Molasses/Distill Brandy (low wines)
Day Three
Distill Gin/Ferment Agave
Day Four
Distill Rum/Ironroot Workshop
Day Five
Distill Whiskey (stripping/spirits run and barreling)
Cost: $4250
Limited to 16 students
Why Viticulture/Distillation?
The Grayson College Viticulture, Enology, and Distillation Programs offer unique opportunities to learn skills in the production of wine and craft beverages. Students work hands-on in the T.V. Munson Memorial Vineyard and Teaching Distillery under the supervision of experienced faculty.

GC's Viticulture Program is one of the few degreed grape growing and winemaking programs in the country and the first of its kind in a Texas community college. The Distillation Program offers both students and hobbyists valuable hands-on experience in a fully functioning distillery.
Note: Courses in Distillation Science, Viticulture and Enology may be taken to earn college semester-hour credits or taken as non-credit courses. A maximum of 9 hours of non-credit classes may be transferred into semester-hour credits.
Grayson College offers the following programs:
Viticulture and Enology

Associate of Applied Science in Viticulture and Enology
Viticulture Certificate
Enology Certificate

Distillation Science

Associate of Applied Science in Distillation Science
Distillation Science Certificate
Cider and Brandy Production Marketable Skills Award
Student Life
The Viticulture, Enology, and Distillery Science Programs are designed for working adults. They offer the convenience of online instruction combined with weekend class meetings to accommodate busy schedules. With in-person sessions held on weekends, students can complete a certificate or degree quickly in a way that works with their lives.
View more testimonial videos
Staff & Faculty
Students will learn under dedicated faculty who are committed to your success in the craft beverage industry.
Meet Your Mentors
Careers for the Future
Grayson College's Viticulture, Enology, and Distillation programs prepare students for a career in the growing field of craft beverages
Viticulturist

Enologist

Distiller
Get Hired by the Best
The area's growing craft beverage industry is looking for experienced individuals to work in their vineyards and distilleries
History
History plays an important role in the Viticulture & Enology Programs at Grayson College. The program was introduced in 1974, but the foundation from which the program has emerged was laid in 1876 when T.V. Munson arrived in Denison, Texas, to begin a career in grape research which was to last a lifetime. Grayson County became T.V. Munson's home after his first visit to the area when he stated, "I have found my grape paradise!" It must surely have been true for he spent the remaining years of his life in the area developing three hundred superior grape varieties from the wild native grapes along the bluffs of the Red River and its tributaries.