Volunteer Opportunities - Friends of Vinita
Friends
We invite you to join the Friends of Vinita Volunteer Association. You'll meet and work with many interesting volunteers as well as greet thousands of visitors from all over the world. Volunteer training occurs in March and bilingual volunteers are always welcome. For those who wish to become more involved in the organization, special events, including our annual Holiday Open House, workshops and committees provide additional volunteer opportunities contact Cynthia Perez at perezc@grayson.edu or 903-463-8621.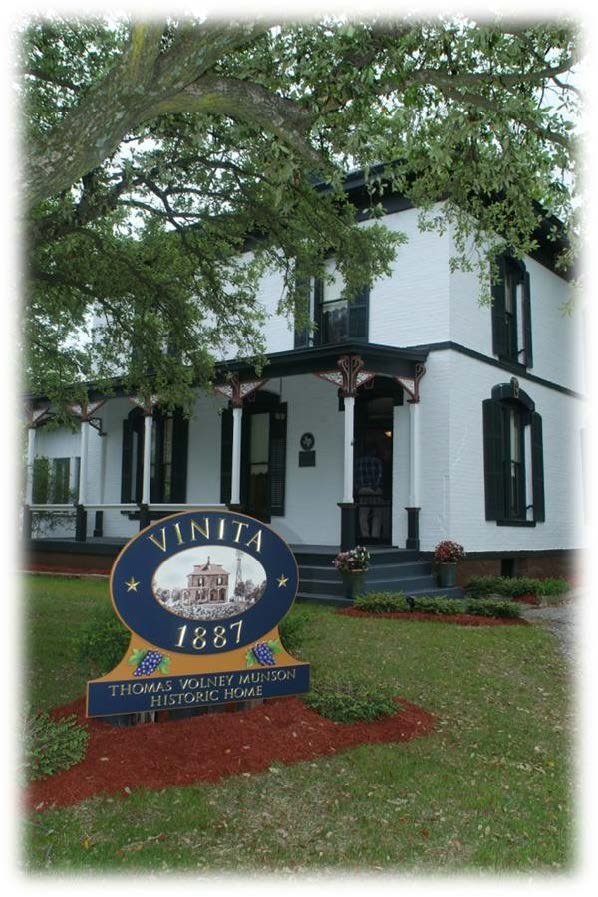 Docents
Docents take visitors on 40-45 minute tours of the T.V. Munson Home, Vinita. The tour season is year round, with the largest attendance in spring, summer, and early fall months. Each Docent serves a minimum of five half-day shifts per month during the tour season. Docents may wish to lead group tours, become grape interpreters, or serve as children's tour guides as well. 
Grape Gardeners/Interpreters
Grape gardeners work "hands-on" in the vineyards under the direction of the staff on a variety of tasks and projects. Shifts are available on weekday mornings. Each grape gardener is expected to work two 2-hour shifts per month, year-round. Tours of the vineyard are also offered in which visitors can learn first-hand the about the various grape species.
Gift Shop
Each Volunteer serves five half-day shifts per month during the tour season greeting visitors and selling Gift Shop products. The tour season is April through October, Wednesday through Saturday. The Gift Shop features items related to Munson's life and work. Many of the products such as prints and posters, cards, books and tee-shirts are designed and produced especially for the T.V. Munson Memorial Project.