GC Alerts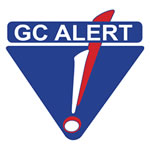 Current students of Grayson College, Faculty, Staff, and the general public can register to receive voice and email messages via  GC Alert, the college's emergency notification system. This web-based service sends high-priority messages during urgent situations.
Manage your contact profile to the service online through GC Alert. You can update your contact information for receiving alerts, and you can add, delete, or update your devices.

Sign up for for GC Alert!
How to Manage Your GC Alert 
Go to GC Alert.
Select Register  (next to the Login  button) to get started.
Enter your information to receive an email from the Rave system.
Select the link provided in the email to sign into the system.
Edit contact information once you are logged in to the system if needed.
Here you can add, edit, or delete your alert devices.
Unsubscribe from Grayson College Text (SMS) Alerts
Unsubscribe from text alerts in one of the following ways:
Manage your GC Alert and remove your phone number as an alert device
Text STOP to 226787, 67283, 78015 or 77295 to cancel alert messages
More About GC Alert 
The alert service is currently available and will be used in emergencies, drills, and exercises, including campus closings.
Any time you log in to GC Alert, you can edit your alert devices and update your contact information.
While not mandatory, it is recommended that you to enter a device to receive a text message. A text message will very likely be the most convenient, immediate, and reliable way to receive an alert during an emergency situation.

Notifications will still be available through voice and email unless you change your profile.
Emergency information will still be communicated by the main Grayson College phone line and the Grayson College website.
In the event of weather closings, information will also be available through Cancellations.com.

Alerts will appear like other text messages normally do on your device. The message will be sent by Grayson College officials and inform you of the situation status.
The cost of the text messages will be handled according to your carrier and plan, just like your other texts. There is no additional fee.
You can add up to 14 different devices to your profile to receive GC Alert.
---
CodeRED
CodeRED is a geographical based system where street addresses are needed to select the telephone numbers that will receive emergency notification calls. Public databases have been used to collect telephone numbers for existing Grayson County home and businesses and have been placed into the CodeRED database. However, sometimes the public databases contain outdated information, thus no one should automatically assume his or her telephone number is included. All individuals and businesses should register, especially if you have an unlisted phone number, have changed your phone number or address within the last year, or you use a cellular phone as your home phone.