GC Ensembles
Grayson College Viking Pep Band/Chamber Ensembles
MUEN 1133.001 Chamber Ensemble 1 (Freshman) and MUEN 2133.001 Chamber Ensemble 2 (Sophomore)
The GC Viking Pep Band is the most visible element of the band program on campus. Our mission is to support the amazing athletes and athletic staff and bring spirited entertainment to each home basketball game along with other Grayson College events.
Around the basketball season, we break into small ensembles for other performance opportunities. These ensembles will ultimately be student led with additional coaching given by the Professor.
The band is open to all students of Grayson College along with faculty, staff and community members. Rehearsals are on Tuesdays and Thursdays, 11:00 – 12:15 PM with additional rehearsals as needed. We play many different styles of music include stand tunes, rock and pop music.
Scholarships are available to Pep Band members for tuition along with room and board in the residence halls. If you are interested in participating in the Pep Band, please contact the director, Dr. Andy Wright at wrighta@grayson.edu.

---
Austin College/Grayson College Wind Symphony
MUEN 1124.001 Concert Band 1 (Freshman) and MUEN 2124.001 Concert Band 2 (Sophomore)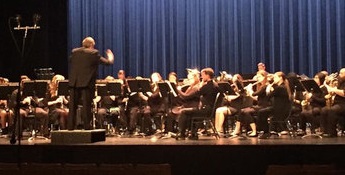 ---
 Grayson College Viking Choir
MUEN 1141.001 Choir (Freshman) and MUEN 2141.001 Advanced Choir (Sophomore)
The Viking choir is a mixed ensemble performing a wide variety of standard choral repertoire under the direction of Professor Jung-An Chou. In addition to performing for departmental recitals each semester, the chorus participates in several other performances throughout the Grayson County community. Viking Choir welcomes music majors as well as non-majors and has scholarship opportunities available. For more information contact Professor Chou chouj@grayson.edu
---
 Grayson College Guitar Ensemble
MUEN 1134.001 Guitar Ensemble I (Freshman) and MUEN 2134.001 (Sophomore) Guitar Ensemble II
The Grayson College Guitar Ensemble studies selected repertoire transcribed for a classical guitar ensemble. The ensemble is designed to develop the musicianship of the guitarist by improving music reading skills, use of proper technique, and the ability to function in an ensemble. The ensemble presents regular public concerts both on and off campus. This ensemble is open to music majors and non-majors and participates are eligible to receive scholarships. For more information contact Dr. Vaughn at vaughns@grayson.edu